CURRENT: Ties Between
Madeleine Finley & Eleonore Zurawski
12/09/2022 - 01/25/2023
Ties Between
is a duo exhibition of the monolithic, emotional, formal abstract works of Madeleine Finley & Eleonore Zurawski.
Examining the limitations of media,
Ties Between
confronts painting as a process for processing. Through our lives we gradually abstract our experience only to encounter pareidolia in self-reflection. The difficult beauty of painting is the threat of denouement. The pressure of decision enforces some finality upon those otherwise aggressively fluid things: memory; emotion; connotation. It is leveling an area of ground whereupon much dancing has occurred. It is though, in these capturing moments—however grotesque—that we find a truth seldom expressed by any other language. In those quiet moments of clarity, the abstraction subsides to understanding and we explore ourselves at our most vulnerable. Find what remains captured in both the paved and unpaved path, and see what you may learn by walking down it once more.
Ties Between is the final show at 2000 N Milwaukee Ave.
Madeleine Finley
(b. 1991) received her BFA and MFA from The School of the Art Institute of Chicago. She has lived and worked in Washington D.C, Rome, Italy, and Chicago Illinois. Her work has been shown in Rome, Chicago, Washington D.C, and San Juan, Puerto Rico. She is currently a teaching instructor for After School Matters in Chicago.
Eleonore Zurawski
studied under Pat Lipsky at the Arts Students League New York in 2020 -2021. She currently resides in Chicago, IL. Humoring a Midwestern sensibility, themes of nature and symmetry permeate her large works, resembling simultaneously landscapes and reflections. Taking inspiration from natural processes, the work is made intuitively, with careful considerations of color and form.
View "Ties Between" Show Catalogue
PREVIOUSLY: Work In Progress
11/18/2022 - 12/04/2022
Anthony Adcock: Work in Progress is the second installment of a traveling solo exhibition, opening on Friday, November 18th at Povos Chicago from 5-9pm. Povos is proud to host this unique show following the successful first installment of the exhibition at the University of Wisconsin-Madison. Povos Collaborated with Anthony Adcock to produce a mockumentary short about the exhibition ft. local art world characters. Link below.
From the Artist
"Working as a Union Ironworker in Chicago during such a time of
uncertainty has provided me the opportunity to understand and identify with workers who fear uncertainties, misinformation, and societal revisions. Work in Progress investigates the workers' dilemma through a form of productive confusion that mimics my relationship with work and art. This exhibition aims to function as a conceptual bridge to the unpopulated intersection of contemporary art discourse and Union labor."
Watch the Film "The Opening"
View "Work in Progress" Show Catalogue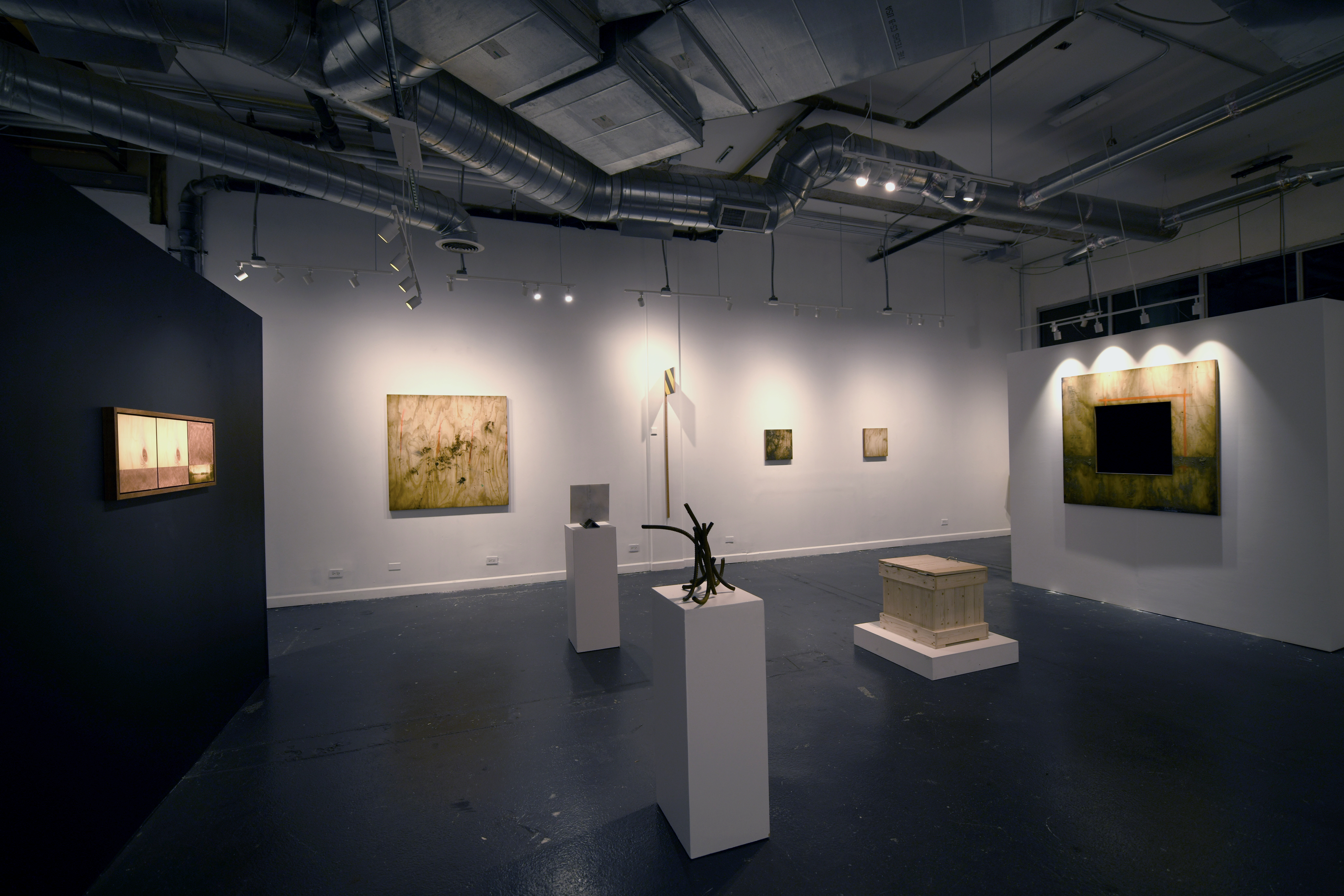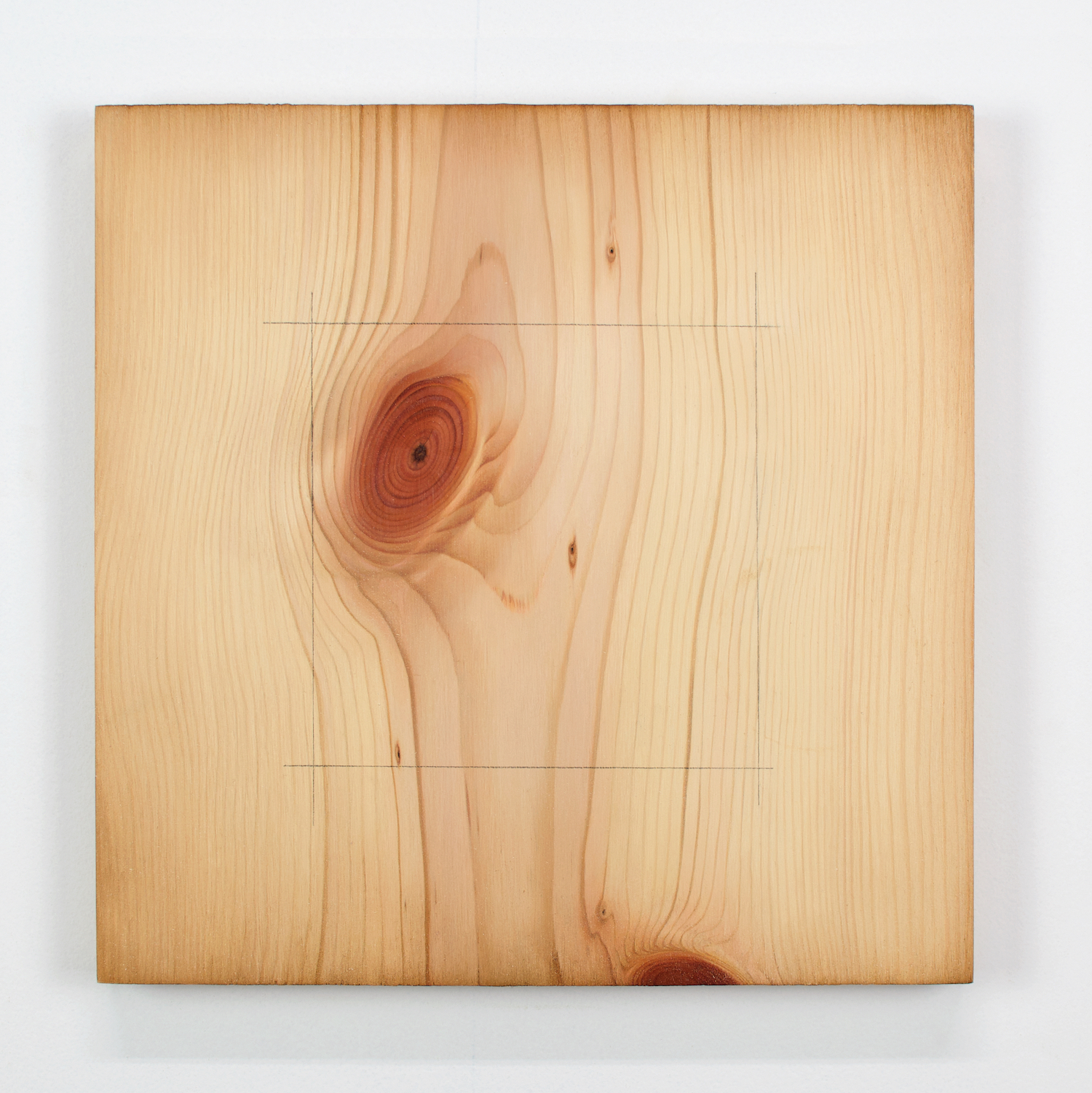 PASSAGE
(10/07/2022-11/13/2022)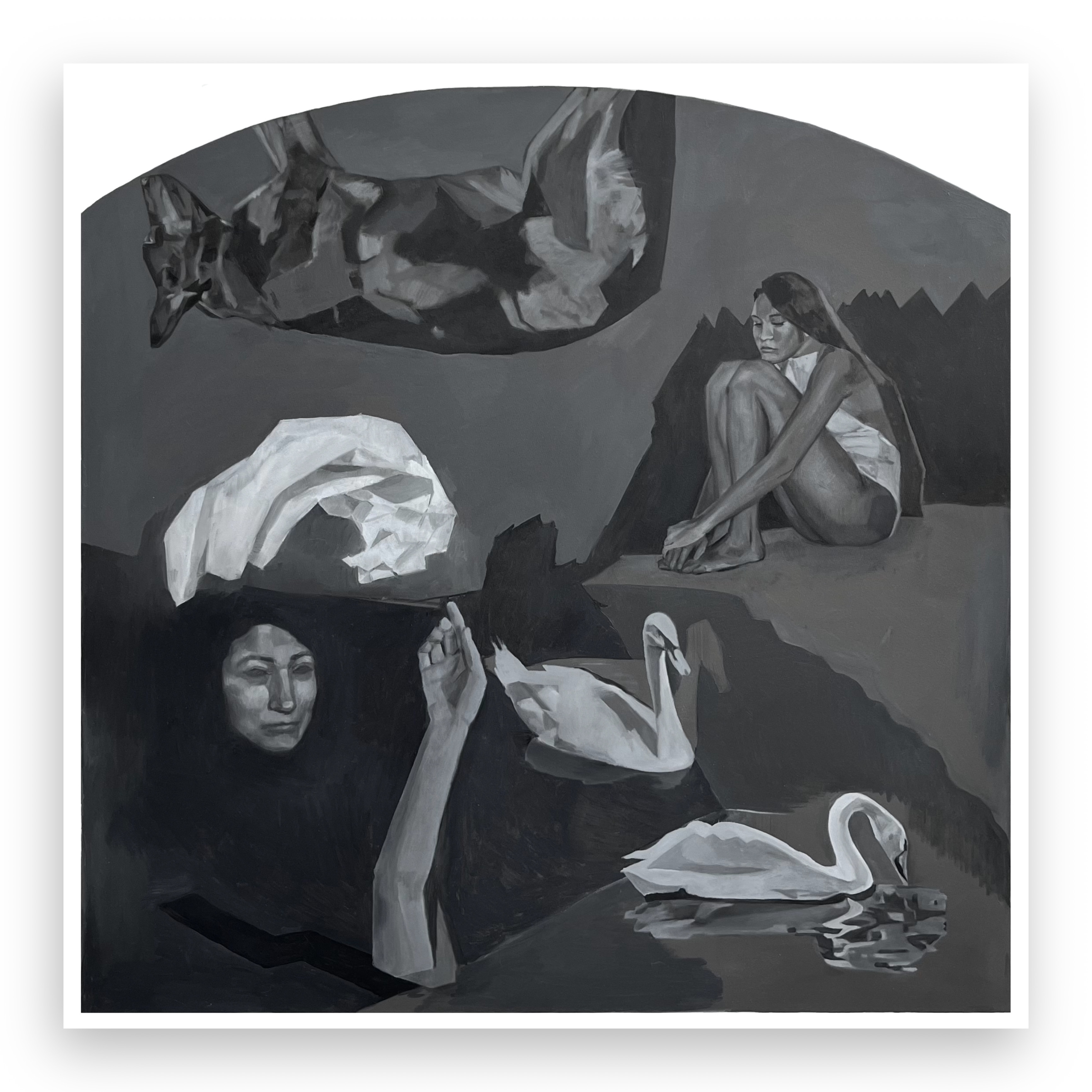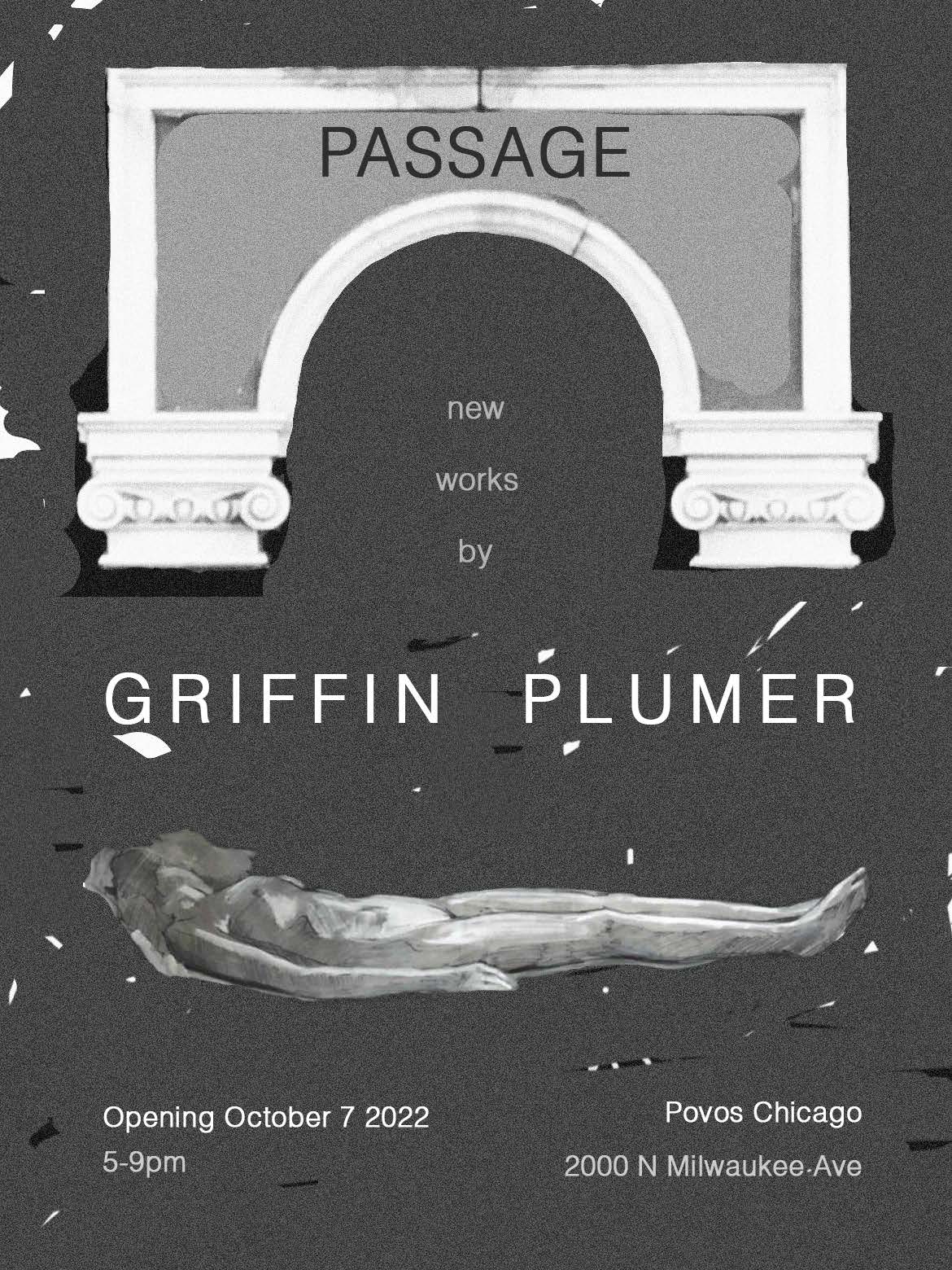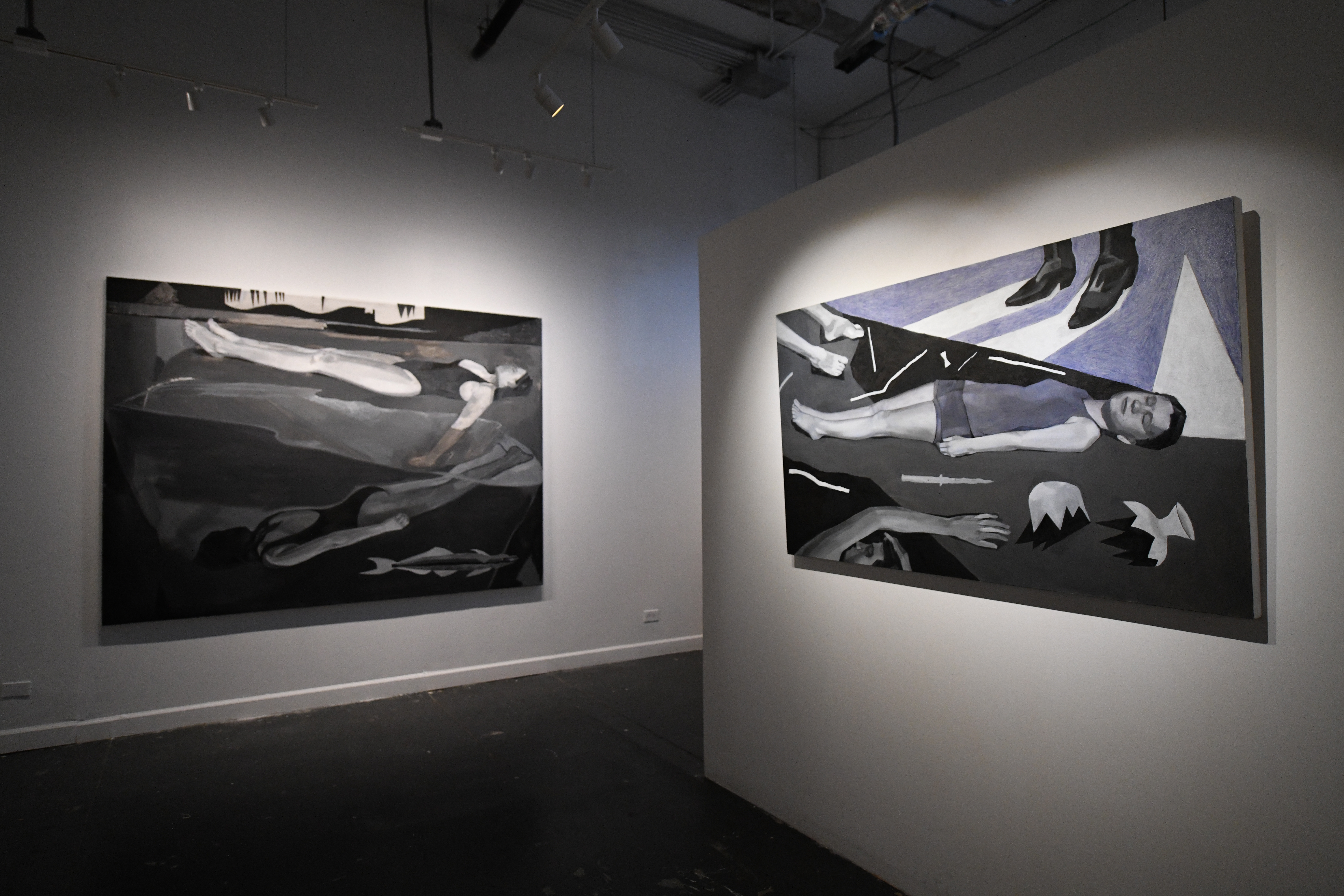 This is Dedicated To _________
(09/22/2022-10/02/2022)
INSIDE GAMES, OUTSIDE GAMES
(08/05/2022-09/18/2022)
Cats, birds, and the rest of the crew continue on their Schaeublian odyssey and engage in a fierce exploration of space in a spaceless universe, finding plenty of games to play along the way.
A new body of work from William Schaeuble introduces us further to how his characters deal with his logic, how a game of binocular chess is played, and clearly that birds are not reliable members of a choir.
In the hyperflat, Schaeuble reflects on space and time and our experiences of day to day life, finding levity in strange places, inside and out...
Heavily influenced by his surroundings; he documents days spent and games played with his partner, muse, and spiritual advisor Briseis Schreibman, whose substantial presence in the work is not only denoted by a long-bodied lady, but by some of the ideas themselves.
Will and Briseis both leave Chicago this August, and in separate ways; and so the autobiographical work documents--with some imagination--this pivotal time in both of their lives.
**UPDATE
Show Sold out opening night.
View "Inside Games, Outside Games" Catalogue
View available works from William Schaeuble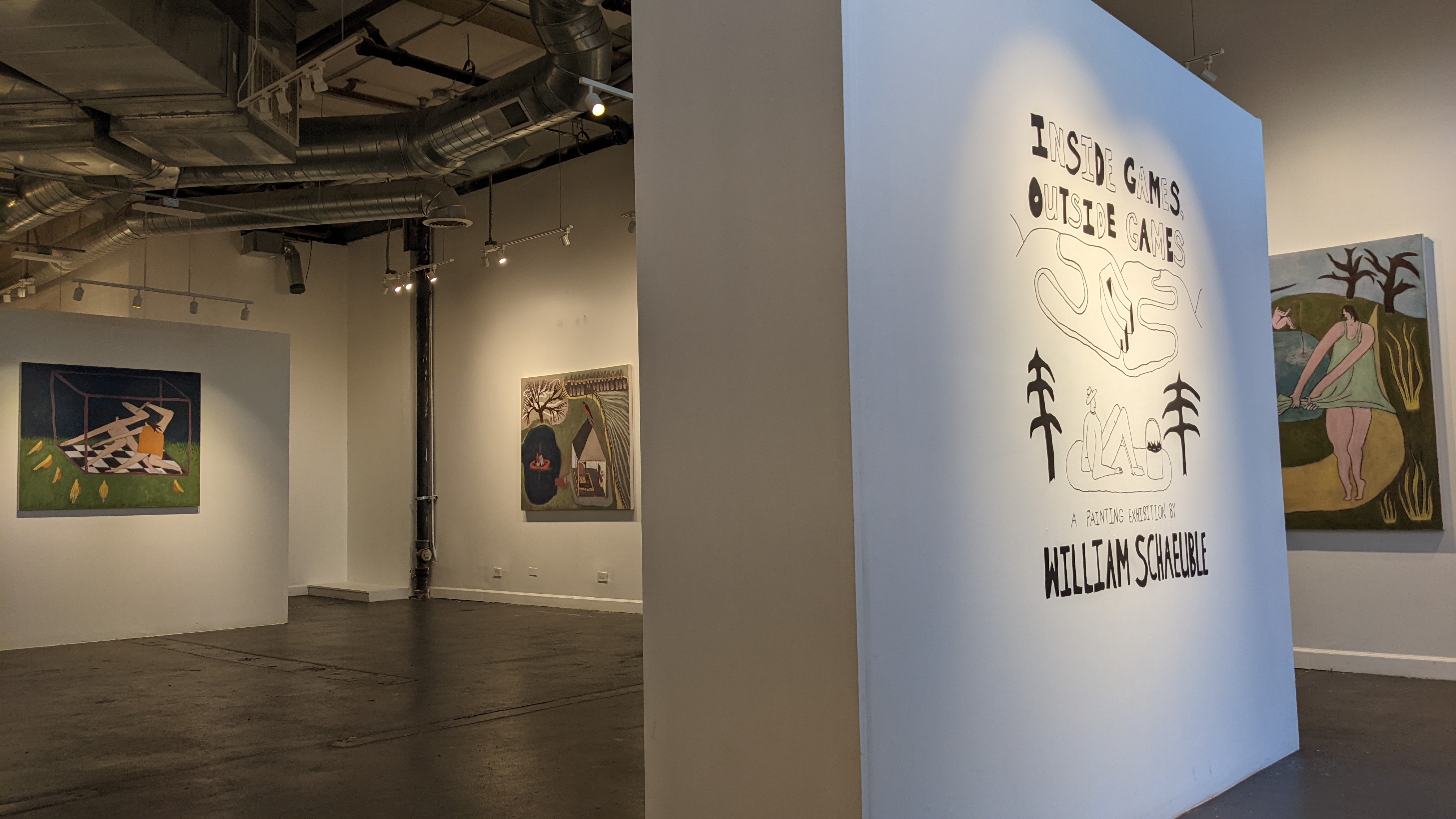 HOMMAGE
(07/21/2022-07/31/2022)
" I went to a place where the sand meets the sky, a desolate land vast enough to foster my aspirations. An oasis to realize my visions, and to stand toe to toe with my predecessors. A manifestation of what I had learned from the greats, pouring everything I had into stepping beyond their shadow. To create a series that was masterful.
This series is attributed to my growth and to the legends I studied in this self taught journey over the last decade"
Julius Kwasi Wisdom Adorsu is a photographer, model, and mixed media artist based between Chicago and South Africa.
View HOMMAGE Catalogue
FABLES
(06/08/2022-07/18/2022)
Welcome to the worlds of 18 local artists.
Traverse the odd and magical, the dark, soft, and the generally strange. Enter and form narratives in a space unburdened by reason and unweathered by time. What will you learn?
A multimedia show featuring work by
:
Lucca Colombelli
William Schaeuble
Araceli Zuniga
Julia Signe
Naomi Hawksley
Amy Pearl Lang
Griffin Plumer
Solene Roullier
Sally Cho
Daniel Zeballos
Tong Pan
Brad Stumpf
Justin Ortiz
Ray Borchers
Sonia jia
Margaux Siegel
Fawn Penn
Rika kova
Curated by William Schaeuble and Lucca Colombelli
View FABLES Catalogue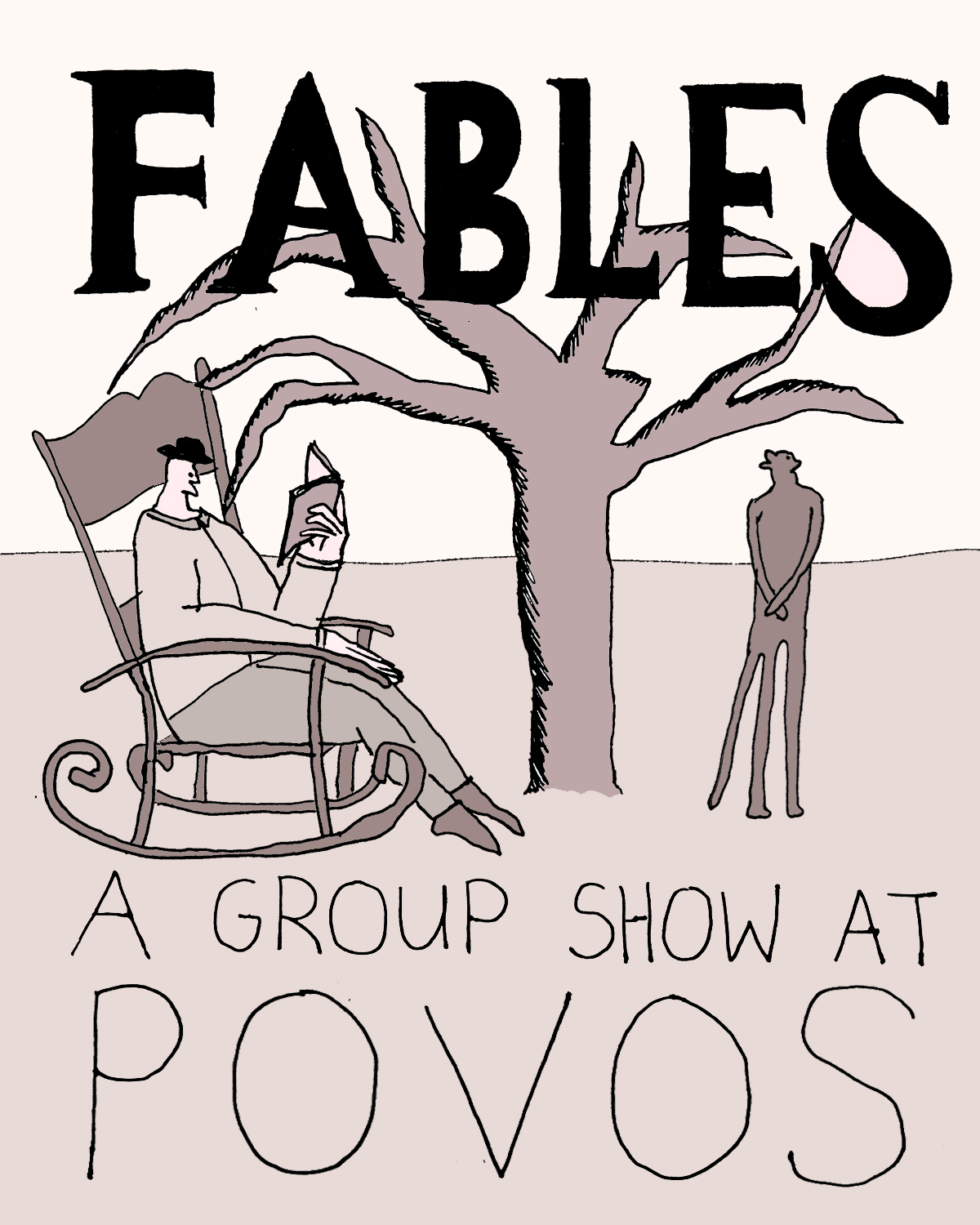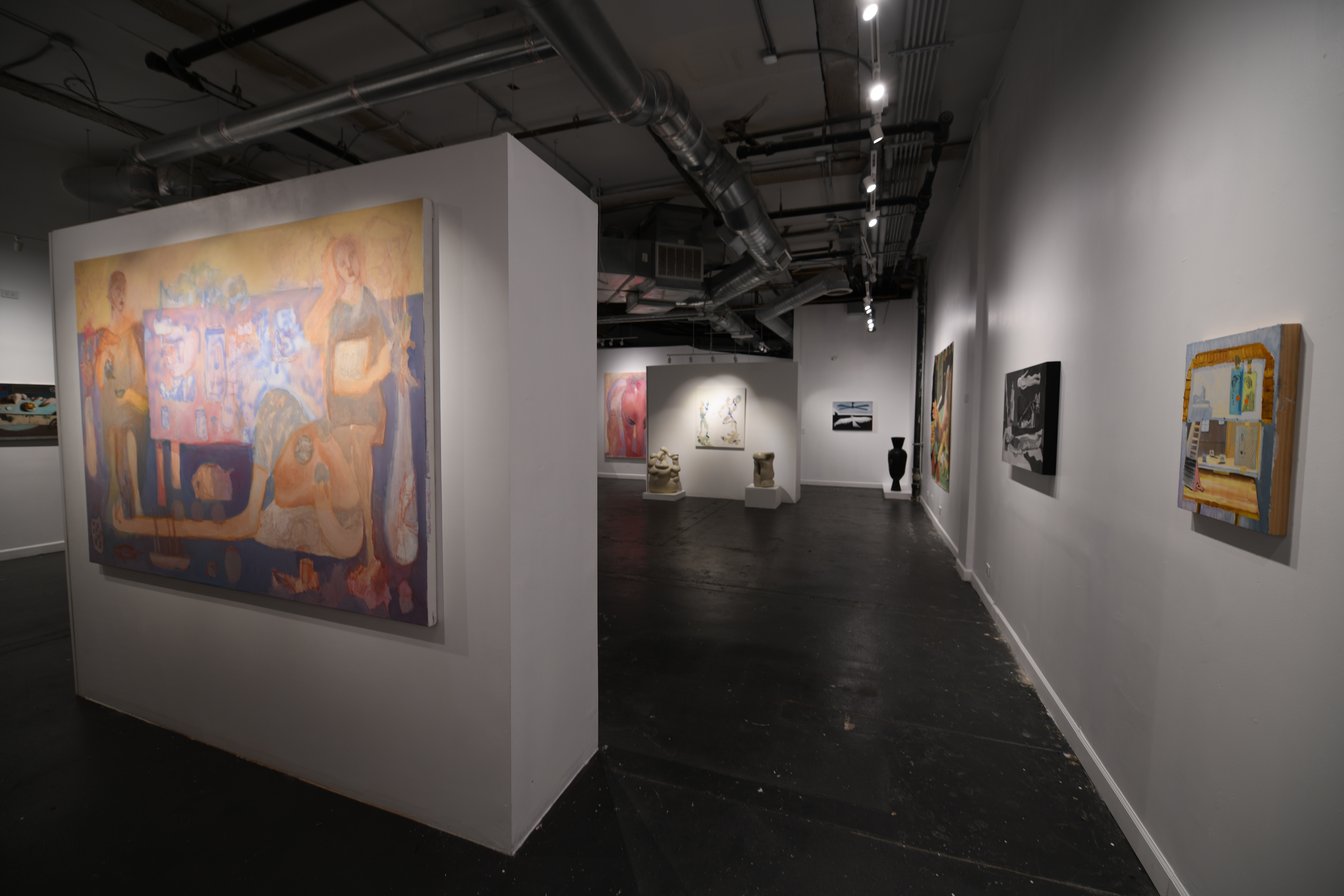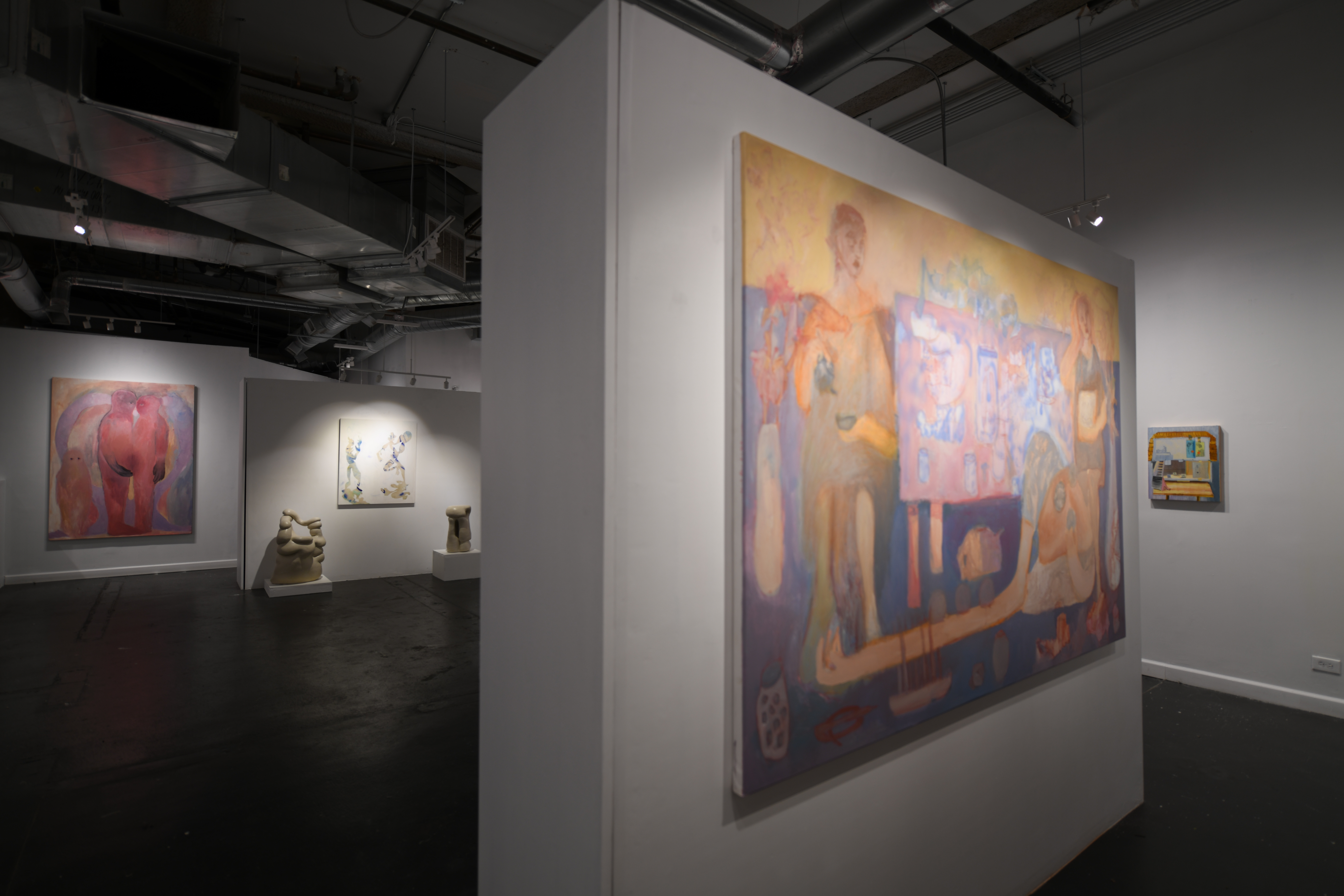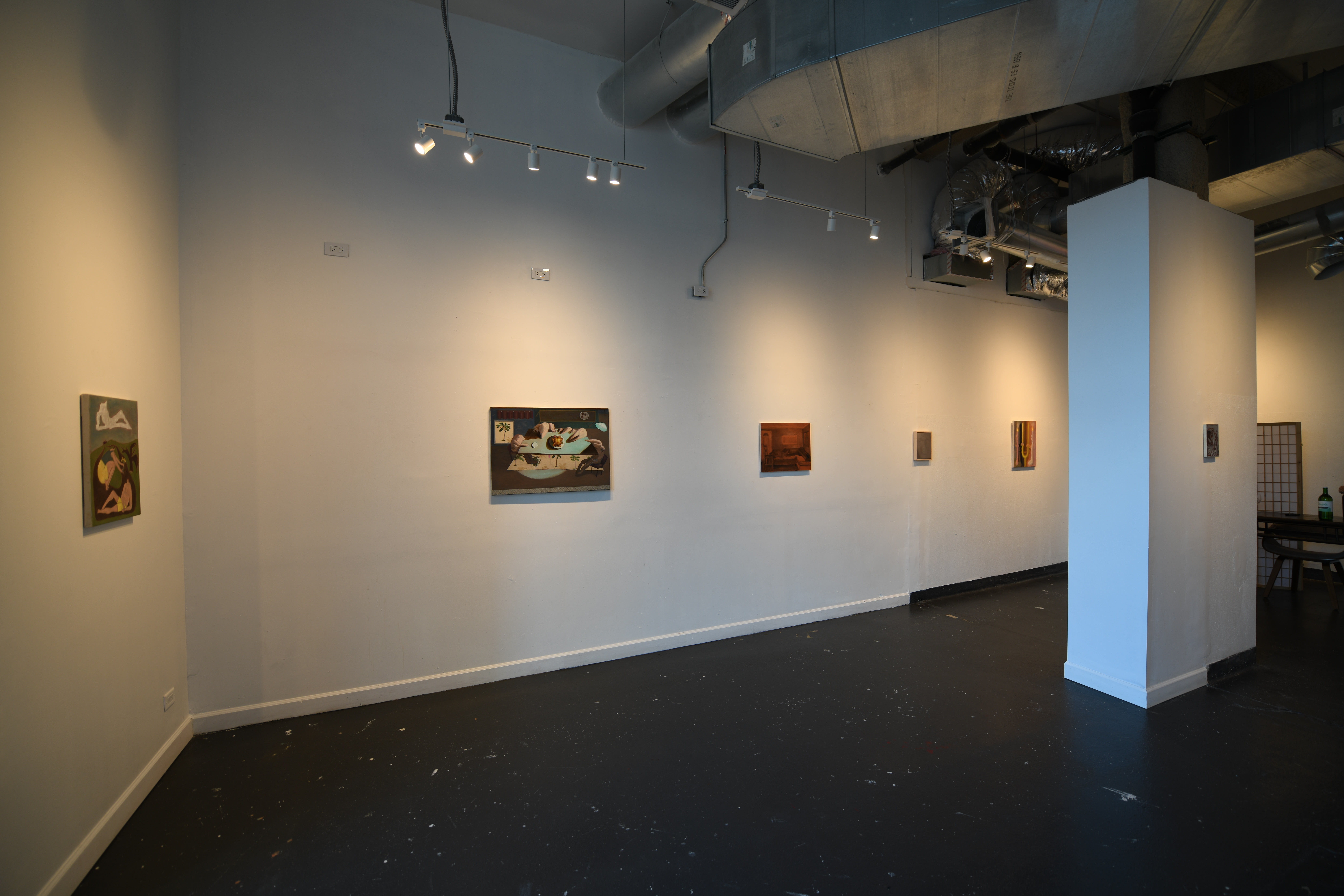 BIMBOFICATION SENSATION
(04/08/2022-05/22/2022)
Bimbofication Sensation was a wildly popular duo exhibition featuring works by Juan Arango Palacios and Kevin Sabo.
Reflecting on notions of gender identity, femininity, and a queer experience, these works personify the artists' expression of the inner-self. Heavily influenced by Drag culture, these paintings flaunt notions of extravagance and boldness. Establishing a visual vernacular for contemporary queerness, these works blend reality and fantasy into a vocabulary that empowers and validates queer folks.
Arango Palacio's images of queer selfies, which reference internet culture, are a taste of reality among Sabo's repetetive characters which invite the viewer into a drag simulation with an infinite number of outfits and possibilities. Looking back at their childhood in the 2000's, both artists reference fashion trends and pop cultures that influenced their queer identity in their formative years, and which still influence how they present themselves today.
Arango Palacio's reggaeton-inspired club looks paired with Sabo's pop diva rosters would bring about a gallery environment where the queer expereince is not only unapologetically represented, but also uplifted, celebrated, and rejoiced. Ultimately rooted in their upbringing in cultures where queerness was unacceptable, these works are a result of years of pain, confusion, and denial.
Championing a cathartic painting practice, these artists create images of internet realities and nostalgic fantasies that manifest only love and self-acceptance– leaving behind years of repression, and taking on a painted self that is confidently unstoppable, and dazzling in every way.
View BIMBOFICATION SENSATION Catalogue